power of one

We live in a time when ideas of community are breaking down as we rush through busy lives, driving out the garage each morning, driving back in each night only to disappear into the solitude of our homes, disconnected from our surroundings.
Do we believe that nothing we do matters? Or do we roll up our sleeves and participate in the community? Do we get to know our neighbors? Do we feel powerful enough to initiate action on a local issue that we care about?
Fortunately, plenty of citizens in Pasadena do, and this book will provide you with a snapshot of their meaningful lives and give you hope about the future.
Brian Biery was the photographer for the book Power of One, written by Traude Gomez. Learn more>>>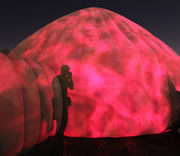 welcome
Brian Biery is a documentary photographer who strives to capture the complexities, contradictions and beauty of life through his camera lens. Please explore these web pages to learn more about, view, and purchase Brian's photographs.

Featured Album ~ Gerlach, Nevada Summer Arts Festival 2012
Gerlach, Nevada summer arts festival
Each year thousands of art lovers descend on the small town of Gerlach, Nevada and set up camp just outside the city limits for a week of art, music, dance, and fun. The festival is well known for its extraordinarily creative arts projects which range from "art vehicles" to light displays to enormous wooden sculptures which dot the vast desert landscape like ships at sea. Read more and see Brian's 2006, 2007, 2008, 2009, '09 Dekompression, 2010, 2011 and 2012 photos >>>
chalk on the paseo
Chalk on the Paseo, the world's largest street painting festival, draws hundreds artists from across Southern California. 25,000 sticks of pastel chalk create spectacular murals on pavement the size of two city blocks! Amazing works of art from every style imaginable, classical to contemporary, whimsical and fantastic to socially relevant, were created and shown over the course of the weekend. Explore Brian's 2005 photos, 2006 photos, 2007 photos, 2008 photos, and 2009 video photo album
U.S. / Mexico border
What motivates a human being to emigrate? What powerful forces are at work that would cause someone to leave everything that is comforting and known to them and end up braving a hostile desert and militarized border? These images were made in January 2007 between Tucson, Arizona and Nogales, Sonora. They depict the harsh conditions of the Sonoran Desert and the imposing structure of the border wall/fence. Read more and see Brian's photos >>>
plastic bottle boat
Plastic is forever! Pretty much all of the plastic ever manufactured is still with us. So where does it end up? In June 2008, two intrepid adventurers and scientists sailed from Long Beach, CA to Honolulu, HI in a 30 foot boat christened 'Junk'. The vessel was made from 15,000 plastic bottles and an old fuselage from a retired Cessna 310 airplane. The purpose of their journey was to raise awareness about the plastic that contaminates our seas. Read more and see Brian's photos >>>
Jalama beach
What does the landscape look like beneath the sea? What forces are churning under the surface of the ocean that are normally obscured from our view? And what patterns and designs do the ceaseless waves scratch out on the rocks at the bottom of the ocean? The variety and creativity of the tides is simply astounding as demonstrated by these images made during an extremely low tide at Jalama Beach in Santa Barbara County. Read more and see Brian's photos >>>
immigration march L.A. 2006
Hundreds of thousands of immigrant rights supporters marched in downtown Los Angeles. This rally was one of the largest in area history and coincided with similar large demonstrations in Washington D.C., Dallas, Chicago and other cities across the country. The purpose of these marches was to bring attention to current immigration policies, laws and practices which have resulted in the detention and trivialization of tens of thousands of people at significant cost to taxpayers. Read more and see Brian's photos >>>
Arlington west
Arlington West is a tribute in Santa Monica, CA, to the fallen soldiers of the Iraq and Afghanistan wars. The mission of this exhibit is to honor the fallen and wounded and to provide a place for the community to grieve and to encourage dialogue about the United States at war. Photographs in this album were made during the 2005 Memorial Day and Veteran's Day events. White, wooden crosses have been placed on the beach beneath the Santa Monica pier every Sunday since February, 2003. Read more and see Brian's photos >>>
world social forum '05
The fifth World Social Forum convened between January 26th and 31st along the riverbank of the Rio Guaiba in the city of Porto Alegre, Brazil. Nearly 150,000 delegates from around the globe came together in a dynamic, participatory and democratic forum designed to create a world that is "fair, fraternal and egalitarian." Read more and see Brian's photos >>>
world social forum '04
The fourth World Social Forum convened on January 16-21, 2004 inside the dusty compound of the NESCO grounds in Goregaon, in the metropolitan city of Mumbai, India. The forums were bursting with rich, passionate cultural traditions, refashioned to express current political ideologies. Rather than using words to describe these magnificent falls, please visit this special place through the photos in this album. See Brian's photos >>>
Iguacu Falls
At the convergence of two enormous rivers and three countries in South America there lies a natural wonder that is absolutely breathtaking in its majesty and beauty. Stretching nearly three miles in length and towering hundreds of feet above the river at its base, Iguacu Falls is a precious jewel located in the rainforests of Brazil, Argentina and Paraguay. Read more and see Brian's photos >>>
Joshua Tree national park
Joshua Tree National Park consists of nearly 800,000 acres of Southern California desert. The park is home to some of the most varied and fascinating vegetation found in the deserts of the West. Powerful rainstorms this past winter caused a profusion of brilliantly colored wildflowers to bloom this spring. Generally thought of as wasteland, this desert contradicts the stereotype of desolation with its multitude of plant and animal life.Read more and see Brian's photos >>>
California agricultural water tour
In March 2005, a group of Pasadena residents participated in an tour that introduced members of the community to the complex and enormous system which provides water to our region and, in particular, to the City of Pasadena and its Department of Water and Power. The Metropolitan Water District of Southern California is the nation's largest provider of treated drinking water. Read more and see Brian's photos >>>